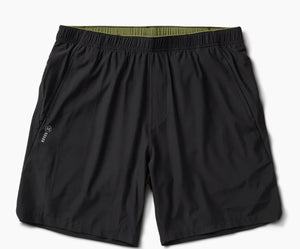 Roark - Bommer 2.0 Shorts 7"
Regular price $89.00 Sale
The Bommer Ridge 7" is our most versatile short in Run Amok. Built to be lightweight and perform under any circumstance, it has a full compression liner with lower thigh cell pocket in addition to multiple exterior pockets, magnetic closures and added ventilation details.
This original Bommer Ridge short was designed to accomodate the needs of the athlete looking for the benefit of a boxer brief compression liner built into the short. Unique to the this liner, it is shaped minimal paneling and flat locked seams to eliminate any chance of chaffing, as well a strategically placed cell pocket is position on the liners thigh to keep it stable during activity. The back yoke features added ventilation paneling details. Both back sides of the short feature extended invisible zip mesh lined pockets, the perfect place to store on-the-trail fuel or an i.d. / car key. Front slash pockets offer a relaxed approach to this technical performance short, and with low profile magnet closures, you can have confidend the pockets will lay flat and not get hung up on the trail. The unique liner wrapped elastic waistband keeps the fit dialed and the drawstring makes sure to keep the short in place, where it belongs.
The Bommer Ridge was designed to help you get where you are going and accompany you in all the endeavors of your choice.